RNAO's statement on the government's phased-in reopening plan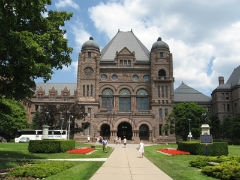 RNAO commends the government's May 20 announcement of a phased-in three-step reopening roadmap for the province.
Based on current trends in key health indicators, including the provincial vaccination rate, the government expects to enter step one of the roadmap the week of June 14, 2021. The province will confirm closer to the expected start of step one, but RNAO cautions against any advancements of this date. We have already experienced and learned the heavy consequences of opening too soon.
RNAO says the approach, which calls for a three-step plan, each lasting at least 21 days, is simple and reasonable. Instead of a colour-coded regional opening, which lead to people moving in between regions, the plan takes a sector-by-sector approach, with each sector reopening simultaneously across the province.
The government says that step one of the roadmap may begin after 60 per cent of Ontario's adults receive at least one dose of a COVID-19 vaccine and if public health indicators, such as hospitalizations, ICU occupancy and new admissions and case rates indicate the province can safely move to this step. The vaccination target of 60 per cent is reasonable. RNAO would have liked to see specific targets for the other variables – not just the expectation of a positive trend in hospitalizations, ICU occupancy, case rates, etc. The same holds for steps two and three. The vaccination targets set for each are appropriate, but no specific targets are set for other indicators. The government must be very cautious in evaluating these other indicators before moving from one step to the next. We should learn from past mistakes.
To read our full statement, please see our CEO Doris Grinspun's COVID-19 Blog.