RNAO's response to the Ontario government's school reopening plan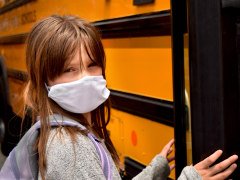 With children set to return to classrooms all across the province this September, RNAO calls on the Ontario government to implement additional measures on top of its current reopening plan.
On Aug. 3, RNAO issued a media release in response to the government's school reopening plan. The plan met some of the recommendations outlined in the association's July 28 open letter to Premier Ford, including mandatory indoor masking and improving ventilation systems.
Unfortunately, the plan does not go far enough to ensure students are as safe as possible amid the fourth wave of COVID-19, driven by relentless variants.
The Ontario government must urgently mandate vaccination for teachers and other education staff, as well as mandate masking for kindergarten children – not just those in Grades 1 through 12. The plan also mentions mental health support for students, but doesn't commit to permanent employment of the 625 public health nurse positions across Ontario schools, as well as the additional 50 community wellness nurses to serve First Nations communities.
RNAO wants the learning experience to be as positive as possible for students amid an ongoing pandemic, but this is only possible if the government takes the necessary steps to keep them safe.
Sign RNAO's Action Alert now to urge Premier Ford to implement the mandatory asks of nurses.
For additional information regarding RNAO's advice on reopening schools in Ontario, including the response to the government's Aug. 17 announcement, visit the COVID-19 portal.