RNAO's fall pre-budget submission: The pandemic recovery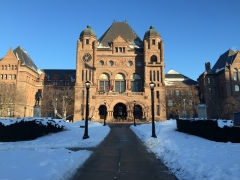 Due to COVID-19, the Ontario government postponed its 2020 budget to November. RNAO participated in a virtual pre-budget consultation on Oct. 15 and delivered its fall pre-budget submission on Oct. 16.
The submission calls on the government to:
adopt RNAO's Nursing Home Basic Care Guarantee call for four worked hours of nursing and personal care per resident day in nursing homes
build a comprehensive primary care system that ensures everyone has coordinated care and gets appropriate attention in the health system, so that interventions happen before ailments become acute or chronic
deliver home care that enables people to age in place, rather than become institutionalized in nursing homes
proactively reach out to people through a strengthened public health system to ensure they stay healthy in the first place, and to monitor for developing health issues like pandemics
work with First Nations communities to build a health system that meets their pressing and long-term needs
start delivering access to safe and healthy housing for all
approve and fund Consumption and Treatment Service (CTS) sites in communities where there is a need and where organizations are able and willing to create the sites
The government will unveil its budget on Nov. 5.

To learn more, please read our submission.