RNAO's Black Nurses Task Force invites you to its next webinar on Sept. 20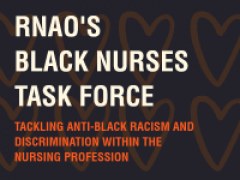 Are you interested in learning more about the work of RNAO's Black Nurses Task Force? Join the next webinar, led by co-chairs Angela Cooper Brathwaite and Corsita Garraway, on Sept. 20 at 2:30 p.m. ET.
Those who are interested in receiving updates from the Black Nurses Task Force and also in joining meaningful conversations about anti-Black racism and discrimination are encouraged to attend. Past webinars (available online) explore a variety of important topics, including: an intergenerational discussion on addressing anti-Black racism; recruiting, retaining and advancing Black nurses; impacts of racism on the mental health of Black nurses; and the power of mentorship in nursing education.
Learn more and watch past webinars online.