RNAO's AGM is going virtual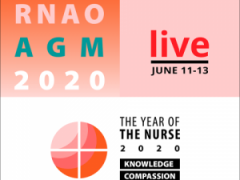 In light of the current COVID-19 pandemic and social distancing requirements across Ontario, RNAO's 95th Annual General Meeting will be held virtually. Join us on June 11-13, 2020 as we continue to celebrate the Year of the Nurse and the incredible efforts of registered nurses, nurse practitioners and nursing students throughout the year and particularly in such unprecedented times.
Visit the AGM portal to stay updated on all AGM-related announcements and instructions: https://rnao.ca/agm-2020
We look forward to bringing together our members in this new virtual format.
Registration:
Register here today. It's free for all members and the public. All events will be broadcast live on RNAO.ca, YouTube and Facebook.
Let us know what you'd like to hear about from our speakers:
This year's keynote presentation taking place on June 13 from 11 a.m. - 1:30 p.m. is titled Celebrating the Year of the Nurse: How to Scale Up Our Voice. This session will focus on the history of nursing and set the foundation for the next generation of nurses.
RNAO is asking members to submit topics and questions of interest that will be addressed by the panel. There will be opportunity to engage with the speakers live, but we'd like you to help us shape the presentation.
Submit your questions by June 4, 2020: https://myrnao.ca/agmkeynotequestions