RNAO's AGM (April 19-21) is almost here: Register today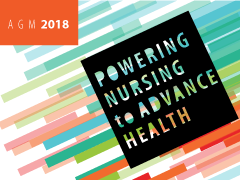 The countdown has begun for one of RNAO's biggest events.
RNAO's 93rd Annual General Meeting (AGM) will take place in Toronto April 19-21 at the Toronto Hilton Hotel. Catch up with nursing colleagues, hear from nursing and political leaders and see your association at work for you.
President Carol Timmings and CEO Doris Grinspun will celebrate the past year's achievements, outline the priorities that lie ahead as well as launch a book that tells the story of RNAO's best practice guidelines program. Titled Transforming Nursing Through Knowledge: Best Practices in guideline development, implementation science and evaluation (see flyer below for more information). The AGM is also a time to recognize those who work in research, administration, policy/political action, education, and clinical practice. In addition, awards will be given out to a nursing student of distinction and interest group and chapter of the year.
The three-day event kicks off with opening ceremonies and a stakeholder reception as well as a celebration of Best Practice Spotlight Organizations (BPSO) from Ontario, Canada and abroad on Thursday, April 19. The evening will also include presentations by new Minister of Health Helena Jaczek and Ontario NDP Leader Andrea Horwath. The new leader of the PC party has also been invited.
The main event takes place on Friday, April 20, and will include Premier Kathleen Wynne addressing RNAO members. The AGM closes on Saturday, April 21 with a special keynote panel on legalized cannabis and what it means for nursing practice in the future.
The cost to attend is free for all RNAO members and the public. Space is limited to only 700 attendees so register soon to not be disappointed.