RNAO's 2021 Ontario pre-budget submission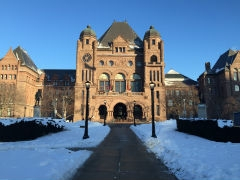 The Ontario government is set to release its 2021 provincial budget on March 24 and like all Ontarians, nurses are anxious to defeat COVID-19 so the province can fully turn its attention and efforts to a just recovery for all. However, COVID-19 and economic recovery are linked and nurses say recovery is not possible until the virus is suffocated.
In our pre-budget submission, RNAO outlines recommendations that focus on the urgent pandemic-related challenges facing Ontario and how to address them. For the vaccine rollout, we call on the government to start phase two of the rollout by putting vaccinations into the hands of the thousands of nurses, physicians and pharmacists working in community care across the province. For the health system, we call on the province to maintain and extend the current level of surge funding for public health beyond the pandemic, including making the 625 public health nurse positions permanent in Ontario schools and adding 50 community wellness nurses to serve First Nations communities. In addition, investing funding to utilize NP primary care services by adding funding for three NP-led clinics in communites where there is or will be insufficient access to primary care. For long-term care, we call for an immediate mandate to fund all long-term care homes to implement RNAO's Nursing Home Basic Care Guarantee – a minimum of four worked hours of direct nursing and personal care per resident, per day, including a minimum of 48 minutes of RN care, 60 minutes of RPN care and 132 minutes of PSW care. In addition, the government must increase the number of seats in RN education programs by 10 per cent in the first year, 10 per cent in the second year and five per cent in the third year.

To ensure these recommendations are implemented, the government must first direct their attention to the vaccine rollout. The timing of Ontario's economic recovery depends on the speed and success of its vaccination rollout. The government must then focus on the immediate and long-term needs of the health system. Finally, social and economic measures are critical to saving lives during the course of the pandemic and to improving population health thereafter.
To see our full list of recommendations, please read our submission online.
RNAO also took part in a virtual budget roundtable on Jan. 25. RNAO CEO Doris Grinspun presented RNAO's pre-budget submission to Ontario's Minister of Finance Peter Bethlenfalvy, Minister of Infrastructure Laurie Scott and Minister of Seniors and Accessibility Raymond Cho. To read our speaking notes, please see online.