Revised breastfeeding guideline now available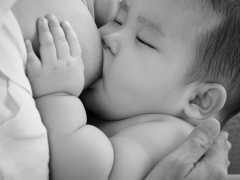 The revised edition of our breastfeeding best practice guideline (BPG) Promoting and Supporting the Initiation, Exclusivity, and Continuation of Breastfeeding for Newborns, Infants, and Young Children is now available for you to download for free.
The BPG features 16 recommendations covering a range of topics, including assessment of the breastfeeding process, skin-to-skin contact, responsive cue-based breastfeeding, and implementing the provisions of the Baby-Friendly Initiative.
Also included is a discussion of strategies to support specific breastfeeding populations or situations for the breastfeeding person and the newborn, infant or young child. The importance of breastfeeding to short- and long-term health outcomes are described in addition to strategies to promote and support exclusive and continued breastfeeding as the cultural norm.
To view the guideline and download it for free, visit https://rnao.ca/bpg/guidelines/initiation-exclusivity-and-continuation-breastfeeding-newborns-infants-and-young-chil
Print copies of the guideline will be available to order in fall 2018 at https://shop.rnao.ca/