Results of nursing survey point to an alarming exodus from the profession following the pandemic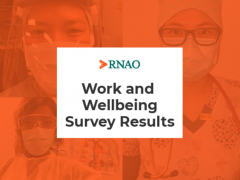 The stress and strain of working during the past 14 months has taken its toll on the mental health and wellbeing of nurses, prompting a significant number of them to consider leaving the profession after the pandemic ends. That's the primary finding of a survey carried out by RNAO.During a press conference on March 31, RNAO released its report on the findings of its survey conducted between Jan. 29 and Feb. 22 and captured responses from more than 2,100 registered nurses (RN), nurse practitioners (NP) and nursing students working in Ontario and in all domains of practice and across all sectors of the health system, including hospitals and long-term care.
Virtually all respondents (95.7 per cent) said the pandemic affected their work, with a majority of nurses reporting high or very high stress levels.
One of the most alarming findings coming out of the survey was that at least 13 per cent of RNs aged 26-35 reported they were very likely to leave the profession after the pandemic. Added to those planning to exit the profession at a significantly higher rate than usual are late career nurses. A total of 4.5 per cent of respondents say they plan to retire now or immediately after the pandemic. Within that 4.5 per cent of respondents, nurses in the following roles are most likely to exit the workforce: nurse executives (13.8 per cent), advance practice nurses (13.3 per cent) and college faculty (10 per cent). Three per cent of staff nurses also say they plan to retire immediately or after the pandemic.
The association has five recommendations it says the provincial government and employers must implement to improve workforce planning and retention strategies:
increase support for early and mid-career nurses
increase staffing levels
bolster admissions to nursing baccalaureate programs by 10 per cent in each of the next four years
increase the supply of NPs as outlined in RNAO's recent Vision for Tomorrow report
implement succession planning for management, senior management and faculty positions
To learn more about the survey and its findings, please read our report and media release. To watch the archived press conference, please see online.

Following the press conference, RNAO hosted its fifth webinar in the series, Continuing the Conversation: An Open Forum for Nurses. During the webinar, participants had an opportunity to ask questions to RNAO's CEO Doris Grinspun and talk about speaking to the media. If you are interested in joining RNAO's media directory, please fill out this survey.