Remove environmental legislation from the "red tape" bill: Sign action alert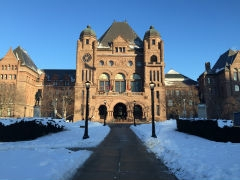 RNAO is very concerned about a large omnibus bill that is being fast-tracked through the Ontario Legislature under time allocation and leaving little time for discussion or questions.
Bill 132 amends 83 pieces of legislation, including more than a dozen of laws that protect the environment and safeguard human health, all in the name of "red tape" reduction.
In response, RNAO issued an action alert calling for the removal of environmental legislation from the bill pending proper consultation.
On Nov. 25, Hilda Swirsky and Sue Munro, members of the Ontario Nurses for the Environment Interest Group presented RNAO's submission on Bill 132. They called for removal of all environmental elements of the bill, highlighting sections that weakened protections against pesticides, protections of pollinators, and protections of drinking water.
To add your support, sign our action alert calling for the Ontario government to remove environmental legislation from Bill 132.