Remembrance Day: RNAO pays tribute to nurses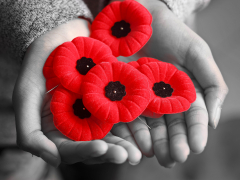 This year, on Nov. 11, RNAO pays tribute to the men and women who have served and continue to serve Canada during times of war by calling on members to wear a poppy and pause for a moment of silence at 11 a.m. ET.
Traditionally, RNAO members lay wreaths at cenotaphs and city halls across the province to honour the soldiers and nurses who took care of the wounded. Amid the ongoing COVID-19 pandemic, ceremonies will again be held virtually. Watch the Queen's Park Ceremony of Remembrance livestream at 10:45 a.m. ET, or the Canada's National Remembrance Day service on TV or online at 10:45 a.m. ET.
In addition, RNAO is highlighting a past RNJ profile of former nursing sister Betty Brown who served in the Second World War. She passed away in November 2019, just 11 days shy of her 102nd birthday, but her story of bravery and service continues to resonate as much today as it did 16 years ago.
To learn more, please read our Remembrance Day tribute.