Remember to register and vote on June 7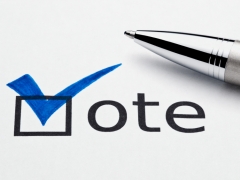 With the provincial election almost here, RNAO is urging members to get informed, get registered and vote.
To help you make an informed decision, RNAO has put together a comparison of the four major party platforms and their positions on nursing, health, health care, social and environmental policy and finances.
The comparison highlights how each party stacks up to RNAO's policy platform Improving health for all, which contains recommendations in five key areas: improving access to nursing care, improving Ontario's health system, improving our living standards, improving our environment and improving our fiscal capacity.
The recommendations include locating care co-ordination and RN care co-ordinators in primary care settings, implementing a universal, single-payer pharmacare program, and maintaining the commitment to increase the minimum wage to $15 per hour by Jan. 1, 2019.
Please visit RNAO's election webpage to read more about the four major parties. Also, see how each party answered RNAO's health-care questionnaire.
For more information about the initiatives and events RNAO has hosted leading up to the election, please read our media release.
To find out how and where you can vote, please go here.