Reducing harms from cannabis and tobacco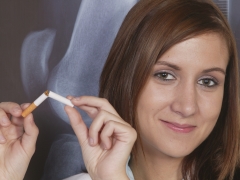 The summer deadline is fast approaching for the federal government's Cannabis Act. Meanwhile, the harms of smoking kill 13,000 Ontarians each year. With this in mind, RNAO is endorsing a public health approach in the government's new legislation that is based on the principles of social justice, attention to human rights, and addresses the underlying determinants of health.
In response to the Cannabis Act, Ontario has joined four pieces of legislation together – an act to enact the Cannabis Act, the Ontario Cannabis Retail Corporation Act, the Smoke-Free Ontario Act (repeals the Electronic Cigarettes Act and the previous version of the Smoke-Free Ontario Act) and amendments to the Highway Traffic Act regarding driving with alcohol or drugs present in the body – to form Bill 174: Cannabis, Smoke-Free Ontario and Road Safety Statute Law Amendment Act, 2017.
RNAO recommended the following in response to Bill 174:
- RNAO recommends that the Ministry of Health and Long-Term Care be the lead agency to drive optimal public health outcomes through legislation, regulation and public policies to reduce harm from alcohol, cannabis, tobacco and other harmful substances
- RNAO supports legalization of cannabis with strict regulation as the optimal approach to decrease health and social harms
- RNAO urges the Ontario government to implement the comprehensive strategy outlined in the Smoke-Free Ontario Modernization: Report of the Executive Steering Committee
- Enact the prohibition of the smoking of tobacco, the use of e-cigarettes (including those containing medical cannabis and heat-not-burn products), and the smoking of the cannabis in prescribed indoor and outdoor locations as outlined in the proposed regulation
For the full submission, please read our response.