Recognition Awards: Thank you to all nominators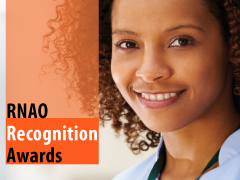 Nominations for RNAO's Recognition Awards are now closed. Thank you to everyone who nominated a colleague or organization for the awards.
The Recognition Awards are presented annually to recognize individuals and groups that make significant contributions to RNAO's mandate of Speaking out for nursing. Speaking out for health.
The awards are split into five different categories such as leadership, education/mentorship, group, student (undergrad) and member of the public.
Winners will be recognized on June 12 during RNAO's 95th Annual General Meeting.