Read the long-term care summer newsletter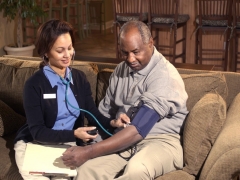 Interested in learning more about training, coaching and building capacity in Ontario long-term care homes?
Read the latest Best Practices in Long-Term Care newsletter, which shares the stories of RNAO's long-term care Best Practice Spotlight Organization (BPSO) designates. You will also find information on RNAO's newest long-term care BPSOs for 2018-2021 and self-reflections from RNAO's long-term care coordinators and coaches.
Read the 2018 summer newsletter online.