Read the latest issue of RNJ online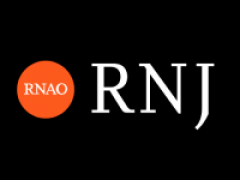 The latest issue of RNJ.RNAO.ca is out. Have you read it? If not, be sure to read about the work public health nurses are doing to keep students and staff in schools safe during COVID-19. We also have a profile of Robin Morash, an RN who gave up retirement to help out during the pandemic and the story of an RN who is working the frontlines and says every day reminds her why she chose nursing. Also, check out the latest columns from RNAO's president and CEO.
Visit RNJ.RNAO.ca for full access to features, profiles, columns, news, and our much-loved "What nursing means to me" section. Read the most up-to-date content, or search for back issues of the print publication.
RNJ is a benefit of membership with RNAO, which means you must be logged in to MyRNAO.ca to enjoy all of the content on the platform. Once you've signed in, be sure to tell us what you think by responding to the three question survey using the "feedback" link in the footer of each page.
And remember, RNJ is your digital journal. If you have a story idea or are interested in writing an article, click on the "submission guidelines" link in the footer, send an email to Kimberley Kearsey at editor@RNAO.ca, or call 416-599-1925/1-800-268-7199 ext. 233.