Read the latest issue of RNJ online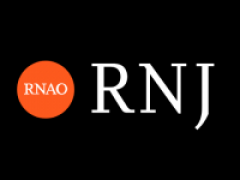 The latest issue of RNJ.RNAO.ca is out. Have a look at how RNAO celebrated its Annual General Meeting this year as well as Nursing Week. We also have a feature on the systemic neglect and archaic staffing and funding policies in long-term care as well as a profile on public health RN Betty Wu-Lawrence who immigrated to Canada from Hong Kong. Read columns from immediate Past-President Angela Cooper Brathwaite as she reflects on the past two years of her presidency and President Morgan Hoffarth introduces herself to members. And, our CEO's Conversations with Members column, which focuses on government neglect of residents in Ontario's nursing homes.
Visit RNJ.RNAO.ca for full access to features, profiles, columns, news, and our much-loved "What nursing means to me" section. Read the most up-to-date content, or search for back issues of the print publication.
RNJ is a benefit of membership with RNAO, which means visitors must be registered with myRNAO.ca to enjoy all of the content on the platform. And remember, once you've signed in and read all we have to offer, be sure to tell us what you think by adding your comments at the bottom of each story. We also encourage you to respond to our quick survey questions using the "feedback" link in the footer of each story. We love to hear from you!
RNJ is your digital journal. If you have a story idea or are interested in writing an article, click on the "submission guidelines" link in the footer, send an email to editor@RNAO.ca, or call 416-599-1925/1-800-268-7199, ext. 233.