Queen's Park on the Road is here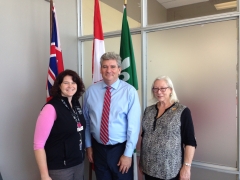 Get to know your local MPP. Our Queen's Park on the Road event connects RNs, NPs and nursing students with their local representatives so they can help inform them about health, health care, and nursing challenges.
Not sure what to talk about? Tell your MPP about the following RNAO priorities:
Stop RN replacement and mandate that any new nursing hires in tertiary, quarternary and cancer centre be RNs
Eliminate barriers and enable NPs to practise to full scope
Implement $15 minimum wage with no exceptions regarding age and sector
Focus on climate change mitigation e.g. emissions reductions
Invest in affordable and accessible housing
Transform long-term care to meet today's needs
Implement universal pharmacare
For more talking points and information, please go to QPOR.
For questions, please contact RNAOpolicy@RNAO.ca or apply now using the online application and including your contact information.