Queen's Park on the Road: Meet your MPP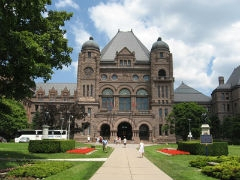 RNAO's seventh-annual Queen's Park on the Road (QPOR) event is almost here.
This signature event is a fantastic opportunity for you to share your experiences and expertise as RNs, NPs and nursing students with MPPs in a bid to influence healthy public policy.
You will be equipped with all the tools necessary to initiate and lead informative and impactful meetings with MPPs to ensure the appropriate action is taken in response to your concerns as a health professional.
Connecting with your local MPP will help them better understand the issues relevant to nurses, the health system, and Ontarians.
If you would like more information on QPOR, please contact Kyle Dieleman by email at kdieleman@RNAO.ca.