Queen's Park on the Road 2021 begins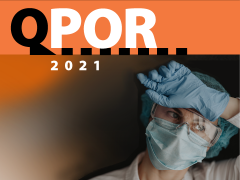 RNAO's annual Queen's Park on the Road (QPOR) political action event kicked off on Nov. 9 and continues into the new year. This signature event provides RNAO members with an opportunity to meet virtually with members of provincial parliament from all political parties to discuss priority issues and advocate for healthy public policy.
Based on responses from five pandemic-related nurse wellness surveys, including the work and wellbeing survey, RNAO's priority issue this year is the RN human resource crisis.
Check in with your chapter/region representatives to see how you can connect with the MPP in your riding.
For more information about the priority issue and how to get involved, visit the QPOR webpage, or contact health policy coordinator Ann-Marie Morris at amorris@RNAO.ca.