Register for Queen's Park Day on Feb. 25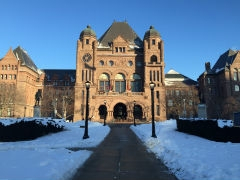 This year's Queen's Park Day will take place virtually. Members of RNAO's assembly have long appreciated the opportunity to take part in the association's Queen's Park Day and now all members will have a chance to join as well.
The event will take place from 3 to 7:30 p.m. and will feature remarks by Premier Doug Ford, Minister of Health Christine Elliott, Minister of Long-Term Care Merrilee Fullerton, opposition and NDP Leader Andrea Horwath, Liberal Party Leader Steven Del Duca, and Green Party Leader Mike Schreiner.
The agenda will also feature the official release of RNAO's Nurse Practitioner Task Force report titled Vision for Tomorrow as well as a panel discussion with co-chairs RNAO CEO Doris Grinspun and associate professor for the School of nursing at MGH Institute of Health Professions Dr. Elissa Ladd. A panel discussion will include Tara Leach, NP and clinical director/founder of H.E.A.L.T.H; Suzanne Robichaud, vice-president of clinical services and chief nursing executive for Hôpital Montfort and Victoria Smye, director and associate professor at Western University's Arthur Labatt Family School of Nursing. Please join us.

Register for Queen's Park Day online.

For more information, please contact RNAO's health policy coordinator Ann-Marie Morris at amorris@RNAO.ca for details.