Upcoming election raises the stakes at Queen's Park Day 2018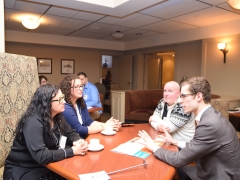 150 RNs, NPs, and nursing students united at Queen's Park on Feb 22 to press politicians about their plans to improve Ontario's health-care system.
Speaking to 44 MPPs from all parties, RNAO members sat down for breakfast with their elected representative and shined a spotlight on issues such as stopping RN replacement, increasing the staffing long-term care homes, fully utilizing NPs, expanding the province's OHIP+ plan/program and funding oral health care for adults and seniors living on low income.
RNAO's Improving health for all policy platform was also launched the same day, calling on all political parties to adopt important nursing, health and health care policy recommendations in five areas – access to nursing care, improvement to Ontario's health system, living standards, the environment, and fiscal capacity.
During the afternoon, then health minister Eric Hoskins, PC Health Critic Jeff Yurek and NDP Health Critic France Gelinas gave presentations to members. The three shared their support for RN prescribing, and a national pharmacare plan.
Following the presentations, a panel on homelessness was also held with guest speakers street nurse Cathy Crowe, Toronto City Councillor Joe Cressy and Shane Choinard, who lives on the streets of Toronto. Members were able to hear and discuss ways to improve Toronto's shelter system as well as longer-term solutions such as affordable housing.
Check out RNAO's Queen's Park Day photos on Facebook and videos on RNAO's YouTube page.