Queen's Park Day is Feb. 20, 2020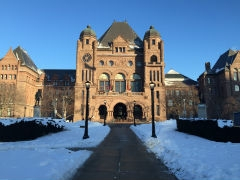 The Year of the Nurse is upon us and RNs, NPs and nursing students are taking their message to political leaders.
Celebrating RNAO's 20th Queen's Park Day, RNAO members and MPPs will meet to discuss important nursing, health and health-care issues while learning about the political process on Feb. 20, 2020. Key priorities include long-term care funding and staffing as well as the opioid crisis.
RNAO will host a breakfast for elected representatives in the Legislative dining room. RNAO will provide MPPs with information about our vision for nursing and health care and invite them to participate in our annual Take Your MPP To Work event during Nursing Week in May.
Following breakfast, question period will begin where we will see our elected officials in action and hear first-hand about the pressing issues facing Ontarians.
The premier, minister of health, opposition leaders and opposition health critics have been invited to address and answer questions from our members.
Please connect with your chapter/region or interest group executive for more information on how to participate.