Public health approach to cannabis needed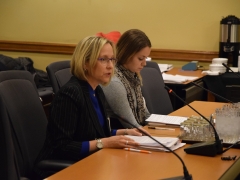 As the legalization deadline for cannabis draws near, RNAO is calling on the provincial government to take a public health approach to cannabis and other substances.
In response to the Bill 174, the Cannabis, Smoke-Free Ontario and Road Safety Statute Law Amendment Act, 2017, RNAO's Nursing and Health Policy Director Lisa Levin and Implementation Specialist with RNAO's Tobacco Intervention Team Nicole Jeffery presented to the Standing Committee on Justice Policy on Nov. 30 and made several recommendations including:
Ensure the Ministry of Health and Long-Term Care be the lead agency to drive the best possible public health outcomes through legislation, regulation, and public policies to reduce harm from alcohol, cannabis, tobacco and other harmful substances in collaboration with other levels of government, ministries, and agencies as needed.
Support legalization of cannabis with strict regulation as the optimal approach to decrease health and social harms.
Support that the minimum age for non-medical cannabis purchase, possession, consumption, and distribution in Ontario be set at 19 years of age.
For more information, please read our full submission online.