Provincial government hears from RNAO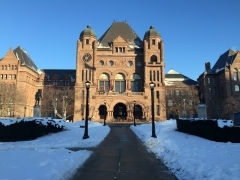 Planning for the 2018 budget is now underway and RNAO is speaking out for RNs, NPs, and nursing students, as well as the health of Ontarians.
On Jan. 19, RNAO CEO Doris Grinspun presented to the Standing Committee on Finance and Economic Affairs RNAO's recommendations covering four categories: nursing, universal health care, social determinants of health and environmental determinants of health.
Included in the recommendations were the following:
Ensure LHINs follow-up on the Minister's 2017 mandate letter and guidance document and locate care co-ordination and care co-ordinators in primary care settings. This is something that RNAO argued should happen in a report it released in 2012 and in 2014 titled Enhancing Community Care for Ontarians (ECCO).
Allow NPs to: perform point-of-care testing, order all diagnostic imaging; order ECGs in all situations; certify a death; and complete legal forms for mental health services.
Implement a universal, single-payer pharmacare program in Ontario covering all medically necessary drugs and associated products, with no means testing, co-payments or deductibles for Ontarians of all ages.
Partner with Indigenous nations to address urgent health needs identified by them, such as the ongoing crisis of child and youth suicide.
Work with federal and municipal partners to ensure dedicated and sustainable revenue sources to pay for ongoing operation and substantial expansion of transit and active transportation in Ontario.
RNAO also presented fiscal capacity recommendations such as building a more progressive tax system, increasing revenue sources that encourage environmental and social responsibility and rejecting sales of publicly-owned crown corporations and assets to fund government programs.
To see all the recommendations, please read the speaking notes and submission.