Provincial budget poorly supports nurses caring for Ontarians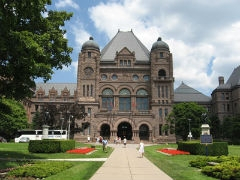 RNAO is disappointed the provincial budget is doing nothing to tell nurses help is on the way as they fight against COVID-19 and the rising cases.
In the Ontario Budget, entitled Ontario's Action Plan: Protecting People's Health and our Economy, there was no plan or investments for nurses needed to provide care. The $933 million in funding allocated to creating additional spaces in the long-term care (LTC) sector and modernize existing ones for residents who call home addresses only one aspect of life in the sector. Missing again are details about the $4.9 billion the government says it will invest over four years to increase nursing and personal care in LTC. More registered nurses (RN), nurse practitioners (NP), and registered practical nurses (RPN) are needed in addition to the thousands of personal support workers (PSW) that Finance Minister Peter Bethlenfalvy cited in his budget address in the legislature. In addition, the need to implement the Nursing Home Basic Care Guarantee, a ready-made evidence-based staffing formula that provides four worked hours of nursing and personal care for each resident with 48 minutes of RN care, 60 minutes of RPN care and 132 minutes of PSW care on a daily basis.
When it comes to the work of NPs, the budget contains no funding to increase their numbers, despite Premier Ford's commitment at the association's Feb. 25 Queen's Park Day, where he said he was open to boosting the number of NPs in Ontario. Not only are NPs urgently needed in LTC, the need for them in primary care is also dire, especially in regions where Ontarians have no access to primary care – a key reason why RNAO calls for immediate funding of at least three additional NP-led clinics.
RNAO says the government also missed an opportunity to support future care needs of Ontarians by committing to increase the number of seats in RN nursing education programs by 10 per cent this year and further increases of 10 per cent in subsequent years.
To see our full response to the budget, please read our media release. Also, please see our CEO's interview with Global News Radio.