Provincial budget 2019: RNAO releases its recommendations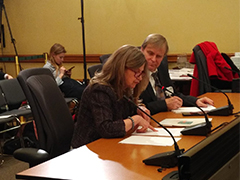 RNAO has long advocated for healthy public policy, promoted excellence in nursing practice, increased nurses' contributions to shaping the health system and influenced decisions that affect nurses and the public they serve.
In response to the pre-budget consultations, RNAO released its recommendations focused on improving access to nursing and health care, strengthening our Medicare system, boosting living standards, protecting the environment and being able to pay for these improvements by making our tax system more progressive.
Included in our recommendations are:
- Provide hospitals with funding earmarked to immediately post and fill 10,000 RN vacancies.
- Implement independent RN prescribing in all sectors, inclusive of diagnostic tests by 2019, and integrate RN prescribing into the curriculum for baccalaureate nursing by 2020.
- Dedicate additional funds to ensure that new and existing NPs in primary care receive compensation equivalent to that received by NPs in hospitals.
To see our full list of recommendations, please read our submission here .