Province must implement the "Nursing Home Basic Care Guarantee" by July 31, 2020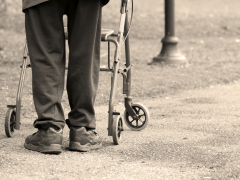 Tragically, COVID-19 has wreaked havoc through many of Ontario's 626 long-term care homes, resulting in an avoidable disproportionate number of deaths due to long-standing shortcomings in the sector. These include severe understaffing of registered nurse staff to provide the complex and intense care needed.
We must begin a new era for residents in nursing homes by guaranteeing their basic care needs, shoring up staffing levels for regulated and personal support staff and adjusting the staff mix, so residents in nursing homes can count on consistent, safe and quality care.
In RNAO's submission to the government's Long-Term Care Staffing Study Advisory Group, we call on the Ontario government to adopt, fund and implement a "Nursing Home Basic Care Guarantee" and its related staffing formula. This means that no home – whether for-profit or not-for-profit – will provide care below the guarantee.
The guarantee is for a staffing formula that provides no less than four hours of direct nursing and personal care per resident, per day. The formula also calls for a proper skill mix that allocates a minimum of 0.8 hours (48 minutes) of RN care per resident, per day, 1 hour (60 minutes) of RPN care and 2.2. hours of PSW care (132 minutes).
Each home should also have one NP for every 120 residents and a full-time RN specializing in infection prevention and control.
We can ensure safe staffing in LTC. And that's where you come in. More than 2,000 people have already signed our action alert and urging Minister Fullerton to table her plan in the legislature by July 31, 2020. Help us get to 5,000 signatures by adding your voice.
To learn more about our submission, please read our media release.
See all the latest news, reports and media releases RNAO has prepared to call for changes in long-term care.