Province must reduce risks of nuclear power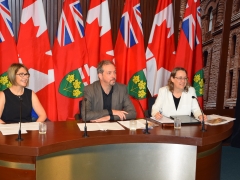 Ontario must fill gaps and fix flaws in Ontario's nuclear emergency plans that leave people vulnerable in the event of a nuclear accident on the Great Lakes. That's the message, RNAO along with Greenpeace and the Canadian Environmental Law Association brought to Queen's Park on May 18.
At a press conference, Kerrie Pickering, president of RNAO's Ontario Nurses for the Environment Interest Group, told reporters that as long as Ontario continues to run nuclear plants, it must act in accordance with best practices and develop a comprehensive nuclear emergency plan to reduce the risks to the public.
In addition, the plan must include training personnel such as nurses to screen for acute radiation syndrome, decontaminate exposure victims, and deal with fear and anxiety associated with a nuclear event.
Current emergency plans put Ontarians at risk by failing to plan for large-scale evacuations in the Greater Toronto Area, to provide alternative sources of drinking water if the Great Lakes are contaminated, and to plan support for vulnerable communities.
To speak out for nuclear emergency plans that protect us all, please sign the petition. For more information, please read our speaking notes.