Province must hire more RNs to end hallway nursing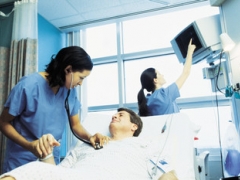 Figures released on June 14 by the Canadian Institute for Health Information (CIHI) show that Ontario has the worst RN-to-population ratio in Canada. RNAO calculations based on CIHI figures show the province has only 669 RNs per 100,000 compared to 828 RNs per 100,000 people across the rest of Canada.
In response, RNAO is urging premier-designate Doug Ford to address this issue and get top value for the taxpayer's dollar.
RNAO says the one bright spot in the CIHI figures is the number of NPs working in Ontario continues to grow. In 2017, there were 2,855 NPs in the province compared with 1,867 in 2012. That's an increase of 53 per cent.
To learn more about RNAO's response to the CIHI figures, please read our media release.