Send a message to the prime minister to provide health, safety and security for all: Sign our action alert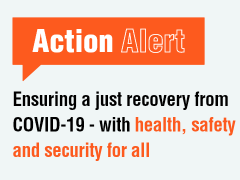 As of Aug. 25, COVID-19 has claimed the lives of 1,847 long-term care home residents in Ontario, accounting for nearly two-thirds of COVID-19-related deaths in this province. As of late May, Quebec, Alberta, and Nova Scotia were faring worse, pointing to a national problem.
The pandemic has also reinforced the importance of housing as a defence against COVID-19. Yet each year, nearly 250,000 Canadians experience homelessness – 35,000 on any given night.
In a letter to the prime minister, cabinet ministers and federal party leaders, RNAO is calling for action to address some of the profound inequities laid bare by COVID-19. As we all know, the most vulnerable Canadians have been ready targets, in particular the elderly and the homeless, which we are urging be a central part to Prime Minister Trudeau's upcoming Speech from the Throne.
To protect our seniors, RNAO is calling for the government's support behind RNAO's Nursing Home Basic Care Guarantee as a national standard. This includes: four worked hours of nursing and personal care to each resident per day, according to the following staff mix formula: 20 per cent RNs, 24 per cent licensed practical nurses (called RPNs in Ontario) and 55 per cent PSWs. As well, ensure LTC homes employ a full-time equivalent NP per 120 residents in the role of attending NP. To learn more, please read about our Nursing Home Basic Care Guarantee online.
RNAO is also joining thousands of Canadians and dozens of organizations – including the Canadian Network for the Health and Housing of People Experiencing Homelessness – in calling for the federal government to adopt the six point Recovery For All plan of the Canadian Alliance to End Homelessness.
RNAO is also calling for the federal government to re-instate and appoint a national chief nursing officer. Countries around the world and provincial governments such as Ontario, as well as major health organizations, have chief nursing officers who play a critical role in focusing attention on social determinants of health, transforming health policies, improving health outcomes and advancing health systems. In RNAO's 2019 federal election platform, we called on the Canadian government to re-instate the role to provide advice on a broad range of issues including health policy and health human resource planning.
We owe it those who lost their lives to COVID-19, as well as those who remain most vulnerable to this disease – the elderly and the homelessness – to take action now.
To add your voice to the call, please sign our action alert. To encourage others to sign, please share our tweet on social media and check out our COVID-19 portal to stay informed about RNAO's initiatives.