Preventing workplace violence in health care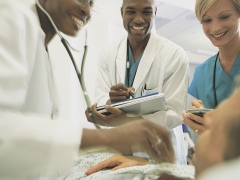 All nurses have the right to practise in a supportive environment where workplace violence is not tolerated.
That's why all efforts to address workplace violence must be expanded to all health-care settings in which RNs, NPs and RPNs work, including long-term care.
In response to the ministry's report entitled Preventing workplace violence in the health care sector, RNAO is recommending the following:
Create transition teams – sustainable groups of experts that can assist and provide advice with the implementation of Workplace Violence Prevention (WVP) tools and leading to improve a hospital's WVP journey to excellence.
Create a Workplace Safety Environmental Standard for health-care workplaces
Develop resources and supports to help hospitals create a psychologically safe and healthy workplace based on the Canadian Standards Association (CSA) Standard.
Amend the Occupational Health and Safety Act to allow a designated worker member of the joint health and safety committees (JHSC) to be included in workplace violence investigations under certain circumstances.
For more information, please read our letter and full list of recommendations.