Premier Doug Ford and cabinet sworn in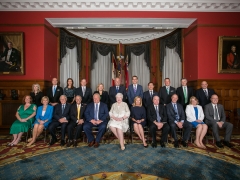 In front of more than 1,000 guests, Doug Ford was sworn in as Ontario's 26th premier and unveiled his cabinet on June 29.
Included in his cabinet is Christine Elliott who was appointed the role of Minister of Health and Long-Term Care and Deputy Premier. Elliott is the former Patient Ombudsman for Ontario who was in charge of investigating complaints related to Ontario's health-care system. She will work with Helen Angus, the new Deputy Minister of Health and Long-Term Care and the two new parliamentary assistants to health: Robin Martin and Effie Triantafilopoulos.
Other MPPs appointed to Ford's cabinet include:
- Peter Bethlenfalvy - President of the Treasury Board
- Raymond Cho - Minister for Seniors and Accessibility
- Steve Clark - Minister of Municipal Affairs and Housing
- Victor Fedeli - Minister of Finance and Chair of Cabinet
- Merrilee Fullerton - Minister of Training, Colleges and Universities
- Ernie Hardeman - Minister of Agriculture, Food and Rural Affairs
- Sylvia Jones - Minister of Tourism, Culture and Sport
- Lisa MacLeod - Minister of Children, Community and Social Services and Minister Responsible for Women's Issues
- Monte McNaughton - Minister of Infrastructure
- Caroline Mulroney - Attorney General and Minister Responsible for Francophone Affairs
- Rod Phillips - Minister of the Environment, Conservation and Parks
- Greg Rickford - Minister of Energy, Northern Development and Mines, and Minister of Indigenous Affairs
- Laurie Scott - Minister of Labour
- Todd Smith - Minister of Government and Consumer Services, and Government House Leader
- Lisa Thompson - Minister of Education
- Michael Tibollo - Minister of Community Safety and Correctional Services
- Jim Wilson - Minister of Economic Development, Job Creation and Trade
- John Yakabuski - Minister of Transportation
- Jeff Yurek - Minister of Natural Resources and Forestry
For more information, please visit Ontario's newsroom.
Share your support by retweeting RNAO CEO Doris Grinspun's tweet: "Congratulations to Premier Doug Ford and his cabinet. RNAO looks forward to working with all MPPs to strengthen health, health care and access to nursing in Ontario. @fordnation @VicFedeliMPP @celliottability #onpoli #nurses #healthcare".