Position statement on Indigenous residential schools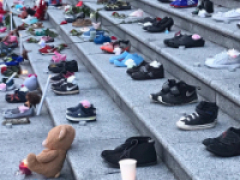 RNAO stands with the Indigenous peoples of this land in mourning the tragic loss of the more than 1,000 children found at the grounds of former residential schools.
In its latest position statement, RNAO calls on all levels of government to support Canada's Indigenous peoples to search for other burial sites on the grounds of the remaining residential schools. RNAO also commits to the timely implementation of the seven calls-to-action described in the Truth and Reconciliation Commission's (TRC) report.
In the 1800s, as an act of cultural genocide, the colonial government of what would become Canada instituted a system of Indigenous residential schools. The schools were created to separate Indigenous children from their families in order to indoctrinate them into the culture of the legally dominant Euro-Christian Canadian society. Children were physically, sexually and emotionally abused in residential schools, often resulting in tragic deaths. Children, grandchildren and other family members of residential school survivors continue to suffer from intergenerational trauma.
The announcement of the unmarked graves was overwhelming to all Canadians, but for school survivors and their families, it was horrific and re-traumatizing.
The TRC report calls on all Canadians to demonstrate the courage and determination of residential school survivors in our commitment to reconciliation. Based on the principle that reconciliation requires constructive action on addressing the ongoing legacies of colonialism that has led to destructive impact on the education, culture, justice system and health of Indigenous peoples, the commission identified 94 calls-to-action.
RNAO calls on all levels of government to abide by the principles of TRC as laid out in the report and provide necessary funding and other supports to create an equitable and inclusive society by ensuring the 94 calls-to-action are acted on now.
Read the full position statement online.