Play a role in Fall Prevention Month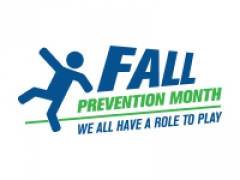 Each year, one in three people over the age of 65 is likely to fall. Falls are also the leading cause of injury-related hospitalizations among Canadian seniors.
To raise awareness on how to prevent falls, RNAO is spreading the word about Ontario's Fall Prevention Month this November with a handy toolkit.
Included in the toolkit are ways to get involved in this special month along with valuable statistics and information. RNAO encourages you to work with your organization in hosting an activity to promote fall prevention.
Consider a "Check your Balance" station or a safe winter walking campaign. Also, if your organization is a Best Practice Spotlight Organization (BPSO), share how your organization is preventing falls in your workplace by tweeting and posting on Facebook. Join the conversation by adding the hashtag #RNAOBPSO and #PreventFalls2018.
If you have questions, please contact implementation science manager Susan McNeill at ssmcneill@RNAO.ca.