Pickering nuclear license up for renewal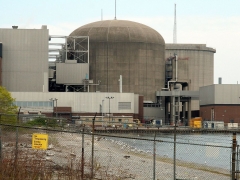 The Pickering Nuclear Generating Station is the fourth oldest nuclear station in North America and is located closer to a major urban centre than any other nuclear generating station in North America.
On June 29, RNAO board member Beatriz Jackson, policy and political action ENO of the Ontario Nurses for the Environment Interest Group Susan Munro and RNAO senior economist Kim Jarvi presented RNAO's submission to the Canadian Nuclear Safety Commission (CSNC) on the application of the Pickering Nuclear Generating Station to renew its licence to run its aging reactors. The Pickering licence would expire on Aug. 31, 2018, and Ontario Power Generation (OPG ) is requesting a ten-year renewal.
In its submission, RNAO noted that Pickering is located five km east of Toronto, and any nuclear disaster would affect millions of people. For example, there was a 30 km evacuation around Fukushima after its nuclear disaster, and over 1,000 deaths were attributable to that evacuation, which only affected 160,000 people. A 30 km evacuation around Pickering would affect 2.2 million people.
RNs and NPs would bear the brunt of providing care in the event of a major disaster, and RNAO urged the CNSC to take a precautionary approach in reviewing the application.
To learn more, please read our submission.