Patients at risk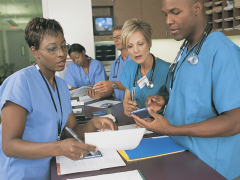 NPs, RNs and RPNs each play a distinct role in our complex health system and that role must fit the needs of each patient.
To achieve that goal, CNO mandates RPNs to care for patients with stable conditions and predictable outcomes while RNs care for patients with unstable or unpredictable outcomes.
However, Health Minister Christine Elliott has sent a letter with directives to CNO for a massive scope of practice expansion for RPNs to become virtually identical to RNs.
RNAO is concerned about this even more so given recent figures by the Canadian Institute for Health Information, which shows last year there were only two Ontario RNs for each RPN. CIHI data also confirmed that Ontario continues to have the lowest RN-to-population ratio in Canada.
The effectiveness of RN care is backed up by data. When hospitals rely on a greater proportion of RNs, evidence shows patient care improves and costs are reduced. Patients also suffer fewer complications and there are fewer re-admissions. A higher percentage of RNs on staff is also associated with lower mortality rates.
For more information, please read our media release.