Participate in Take Your MPP to Work – LIVE #TogetherWeCanDoIt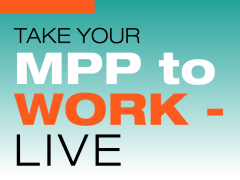 During Nursing Week, RNAO launched its annual Take Your MPP to Work (TYMTW) Live political action event.
This year, we felt it was important to continue this event even though health organizations are dealing with COVID-19. This spring will be different from others as RNAO is moving forward with a virtual delivery of TYMTW to offer a unique experience for politicians – MPPs – to better understand the depth of nursing practice challenges while caring for patients and communities throughout the COVID-19 pandemic.
So far, 12 virtual meetings have taken place in organizations such as Michael Garron hospital, Guelph CHC, Greenwood Court LTC and Inner City Health Associates. Many political leaders have also participated in these visits including Prime Minister Justin Trudeau, Premier Doug Ford, Health Minister Christine Elliott, Minister of Francophone Affairs Caroline Mulroney, Minister of Long-term Care Merrilee Fullerton, MPP for Mississauga Centre Natalia Kusendova, NDP Health Care Critic France Gélinas, MPP for Ottawa South John Fraser, MPP for Scarborough-Guildwood Mitzie Hunter and Green Party of Ontario leader Mike Schreiner.
To see the virtual visits, please go to our Youtube page.
For more information or to learn how to get involved, contact Kyle Dieleman, kdieleman@RNAO.ca.
Since it began in 2000, TYMTW has grown to become an important political engagement event for RNAO members and MPPs alike. Premiers, cabinet ministers, opposition leaders and numerous MPPs, have gone to work with RNs and NPs in public health units, community health centres, family health teams, nurse practitioner-led clinics, hospitals, long-term care homes, and post-secondary institutions, among others.