Ostomy best practice guideline updated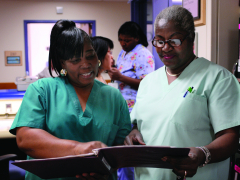 RNAO has recently published the best practice guideline (BPG) Supporting Adults Who Anticipate or Live with an Ostomy.
Replacing the 2009 BPG Ostomy Care and Management, the updated BPG provides nurses and other members of the interprofessional team with evidence-based recommendations to enhance access to care, promote positive outcomes and support adults who have or expect to have an ostomy.
The BPG also addresses the need for adequate access to nurses specialized in wound, ostomy and continence, the need for a standardized ostomy care program within health service organizations, guidance on prevention of getting a parastomal hernia – occurs when one or more loops of the bowel protrude through the abdominal wall, creating a bulge – and the need for quality of life assessment among adults who anticipate or live with an ostomy.
To download the BPG, visit https://rnao.ca/bpg/guidelines/ostomy.