Ontario's plan for legalized cannabis includes stand-alone storefronts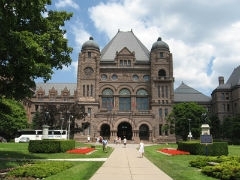 A clearer picture of the future of cannabis in Ontario emerged on Sept. 8 when the province released its framework to manage the drug after it becomes legal next year.
The province's ministers of health and finance and its attorney general announced measures they say will carefully control the lawful use of cannabis, discourage consumption, and eliminate the illicit market.
These plans include setting the minimum age of 19 for possessing and consuming cannabis, and having the LCBO sell cannabis products in new stand-alone stores -- separate from their alcohol sales -- and via an online distribution system. About 150 of these stores will open by 2020, while online sales will operate from July 2018 onward, the same month the federal government will officially legalize cannabis. As part of this plan, the government will work with law enforcement to shut down all privately operated cannabis dispensaries.
RNAO CEO Doris Grinspun supported having the LCBO handle cannabis distribution, but urged the government to ban public marketing and promotion of cannabis. "We know such promotion is widespread with respect to liquor and beer sales and are opposed to it," Grinspun said. "Protecting health and safety must be the highest priority, not profits."
The government's framework also includes developing a prevention and harm reduction approach that educates youth and other vulnerable populations about the harms of cannabis consumption. Further details about cannabis pricing and taxation will be announced after provincewide consultations are complete.
RNAO recommends the ministry of health take the lead in setting public policies for all harmful substances, including cannabis and alcohol. "As with cigarettes, RNAO wants the ministry of health to draft policy that ensures the addictive nature of cannabis and its other harmful side effects are taken into account."