Ontario reaffirms commitment to expand scope of practice for RNs and NPs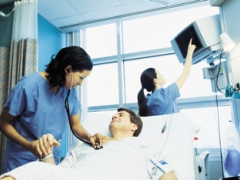 To improve access to quality care, Ontario is moving ahead in expanding the scope of practice of RNs so they can independently prescribe some medications to patients.
Ontario has also committed to assessing requests for the expansion of the role and responsibilities of NPs, including ordering MRIs and more.
Through this initiative, people in Ontario will benefit from improved access to safe and high quality health services closer to home, particularly in rural, remote and northern communities.
At RNAO's 17th-annual Queen's Park Day in February 2017, Health Minister Eric Hoskins announced amendments to the Nursing Act to give RNs the authority to prescribe medications independently and in April 2017, Ontario gave NPs' new authority to prescribe controlled drugs and substances.
Expanding the scope of practice for RNs and NPs has been a longtime priority for RNAO because it will secure timely access to quality health services and lead to a more effective and efficient health system.
To read more about our position on scope of practice, please read our media release. See below for the full government announcement.