Ontario PCs win majority government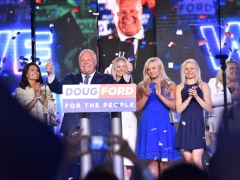 A new party is in power at Queen's Park. Under leader Doug Ford, the Progressive Conservative party captured the most seats in the June 7 election.
According to the unofficial results posted by Elections Ontario, the PCs won a 76-seat majority while the NDP won 40 seats – becoming Ontario's official opposition. The Liberals won seven seats while the Green Party made history by winning its first seat ever in the legislature.
Fifty-eight per cent of eligible individuals cast ballots.
Throughout the campaign, RNAO members actively engaged with the candidates running for office by inviting them to take part in the association's Take Your Politician to Work initiative. Members also hosted several all-candidates debates across the province using RNAO's policy platform Improving health for all for discussion
RNAO looks forward to working with premier-designate Doug Ford and all MPPs to strengthen health, health care and access to nursing in Ontario.
The transition of power will take place on June 29.