Ontario patients need more RNs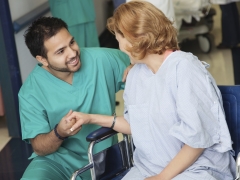 To ensure patient safety and improve the level of care patients receive, representatives of Ontario's top two nursing organizations issued an urgent call on May 7 to fill all RN vacancies in provincial hospitals.
At a Queen's Park media conference, RNAO and ONA revealed that more than 10,000 RN positions are currently vacant in provincial hospitals, leaving patients without access to the expert care of RNs and vulnerable to increased risks of morbidity (complications) and mortality (death).
Sign RNAO's action alert to tell Ontario's four political parties that Ontarians need more RNs
At the media conference, RNAO and ONA leaders also urged all political parties to commit to making RN staffing a health-care priority by including a promise in their election platforms to immediately post and fill 10,000 RN vacancies. This will begin to fix the deficit in Ontario's RN workforce and better serve patients. RNAO and ONA are also urging that all new hires in acute care and cancer care hospitals be RNs.
In Ontario, there are just 703 RNs per 100,000 people compared with an average of 839 RNs per 100,000 in the rest of the country. In fact, Ontario has the lowest RN-to-population ratio in the entire country.
To learn more, please read our media release, speaking notes, and backgrounder.
Update: During Nursing Week on May 10, Premier Kathleen Wynne announced, if elected, her Liberal government would add 3,500 more nurses – prioritizing RNs - to Ontario's health-care system this year. The announcement was made at the Hospital for Sick Children in Toronto during RNAO's Take Your Politician to Work event. To see what other parties have promised, please visit RNAO.ca/platform.
Update: On May 24, NDP Leader Andrea Horwath announced that an NDP government will hire 4,500 more nurses and will put a moratorium on layoffs of front-line health-care workers. Please retweet our CEO's tweet to show your support for Horwath's powerful commitments to nursing: https://twitter.com/DorisGrinspun/status/999819903694589952