Ontario Nurses' Association celebrates 45 years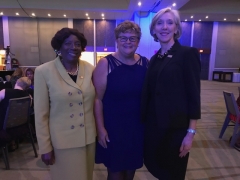 RNAO President Carol Timmings and President-Elect Angela Cooper Brathwaite attended the Ontario Nurses' Association (ONA) Biennial Convention this December in Toronto.
Nurses from across Ontario gathered to celebrate the association's 45-year anniversary as well as honour ONA President Linda Haslam-Stroud's retirement and passing of the torch to Incoming President Vicki McKenna. RNAO CEO Doris Grinspun delivered remarks at Haslam-Strou'ds retirement celebration.
RNAO has worked with ONA on many initiatives including workplace violence for nurses and RN shortages across the province. Haslam-Stroud was also the winner of RNAO's Lifetime Achievement Award earlier this year.