Ontario must respond to the effects of climate change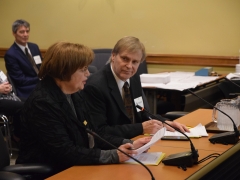 The effects of climate change in Ontario have never been more evident. The 2018 wildfires in Parry Sound. The 2018 tornadoes in southern Ontario. The 2016 drought in eastern Ontario.
That's why on Oct. 30, RNAO's Region 6 board representative Hilda Swirsky and senior economist Kim Jarvi went to Queen's Park to oppose Bill 34, the Green Energy Repeal Act.
The bill (nearing final approval on November 20) would repeal the Green Energy Act, 2009 which was aimed to bolster the province's green energy industry. It would not only remove green energy incentives under the act, it also would make approval of future green energy proposals more difficult than other energy proposals.
RNAO asked the government to commit to a comprehensive climate change program addressing all sources of greenhouse gases (GHG), on the basis of health. It also asked the government to commit at a minimum to meeting Ontario's existing GHG reduction targets, which were removed by another piece of legislation, Bill 4.
In addition, RNAO asked to remove sections of the bill that made it more difficult for renewable energy projects to receive approval than other kind of energy projects. RNAO's submission pointed out that renewable energy is becoming the cheapest form of energy, and that it didn't make sense to stop low-cost green energy projects if the government was truly interested in saving money for energy users.
On Nov. 12, the Green Energy Repeal Act was sent back to the house for third reading without amendment.