Ontario Health Teams announced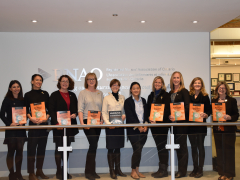 With the goal to end hallway health care and make care for people more connected and seamless, Health Minister Christine Elliott announced several Ontario Health Teams (OHT) in November.
Among them is Southlake Community OHT (pictured on the right) who will help better connect patients and providers in their communities, improve health outcomes, and reduce system costs.
Southlake Community OHT is already working with RNAO as a BPSO OHT and will be sharing evidence-based best practice guidelines as part of their partnership. RNAO looks forward to continuing to work with the team to help deliver quality care and improve patient outcomes.
Three other OHT hopefuls are also working with RNAO — the North Western Toronto (NWT) BPSO OHT, the East Toronto Health Partners BPSO OHT, and the Ottawa East Health Team.
The East Toronto Health Partners held a day-long planning meeting at RNAO on Nov. 25 and on Dec. 2, NWT BPSO OHT launched its face-to-face Champions training where CEO Doris Grinspun and Implementation Science Manager Susan McNeill are sharing RNAO's implementation program for uptake of guidelines and ways to ensure robust staff engagement. The champions will work with frontline staff members and inspire them to engage in leading excellence in clinical care for patients.
You can read more about the OHT announcement on the government's website. Stay tuned for our next OHT webinar in January 2020.