Ontario Health System Transformation: RNAO's Update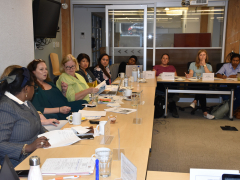 To make the health system more patient-centred, the North Western Toronto Ontario Health Team (NWT OHT) joined the Best Practice Spotlight Organization (BPSO) journey earlier this year.
The NWT OHT is one of 31 partnerships invited by the provincial government to submit a full application to become an OHT. The NWT OHT is made up of 13 organizations which represent the full continuity of care.
At their third meeting on Sept. 23, the organizations on the team who are already BPSOs discussed their Champions training. All 13 organizations will be trained together on Dec. 2 and 3 to drive evidence-based practice and staff engagement.
Together, all OHTs who are engaged with RNAO will drive their commitment to staff and enhance health outcomes for patients.
In addition, members of the NWT OHT participated in the fifth OHT webinar offered by RNAO. We invite you to watch and see what they had to say in our archived webinars webpage.
RNAO has been actively involved with the provincial government supporting several OHT applicants and hosting a series of webinars, attended by members and non- members across all sectors. Our goal is to keep you fully informed of the government's vision for Ontario's public health-care system and support you during this transition.
With that goal in mind, we invite you to join us on Oct. 28, at 2 p.m. to participate in a dynamic dialogue with RNAO's CEO Dr. Doris Grinspun and other nurse leaders as they discuss the OHT application process and highlight opportunities for making your interprofessional teams shine.
Register online to participate in this very important conversation.

For more information about OHTs, please visit: http://health.gov.on.ca/en/pro/programs/connectedcare/oht/