Ontario Health Minister works with OPCC to improve primary care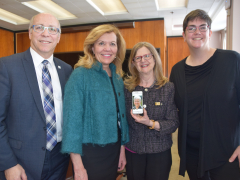 Health Minister Christine Elliott met Jan. 29 with the Ontario Primary Care Council (OPCC) -- of which RNAO is the founding member -- to discuss ways to improve primary care.
RNAO's CEO Doris Grinspun, the Ontario Pharmacists Association Executive vice-president Allan Malek and the Alliance for Healthier Communities CEO Adrianna Tetley shared with the minister the urgent need to make primary care the bedrock of health care as the only way to ensure a high performing system.
By improving primary care, we secure more timely help to Ontarians, prevent or slow down the onset of chronic disease, lessen our dependence on costly medications, reduce the strain on overcrowded emergence departments and hospitals and re-direct our health care system on a more sustainable path.