Ontario expands newborn screening program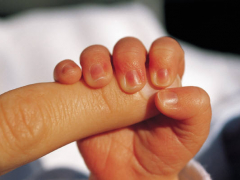 Ontario continues to be a leader in newborn screening, becoming the first province in Canada to add the permanent hearing loss risk test for all newborns.
On July 3, Health Minister Christine Elliott announced with Minister of Children, Community and Social Services Todd Smith and Associate Minister of Children and Women's Issues Jill Dunlop that Ontario's newborn screening program will now include the permanent hearing loss risk test for earlier identification of babies at risk for hearing loss.
Newborn screening services are provided through Newborn Screening Ontario and completed by taking a blood sample through a heel prick from each baby between 24 to 48 hours after birth. The added screen for risk of permanent hearing loss will not require collecting additional blood.
To learn more, please read the announcement from the Ministry of Health.