Ontario to ban promotion of vaping products in convenience stores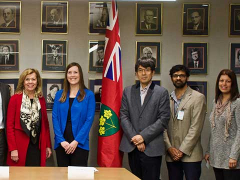 Starting Jan. 1, 2020, Ontario is banning the promotion of vaping products in convenience stores and gas stations.
The promotion of vaping products will only be permitted in specialty vape stores and cannabis retail stores. You must be 19 or older to enter these stores.
In late September, RNAO CEO Doris Grinspun wrote an op-ed published in the Ottawa Citizen calling on the Ontario government to clamp down on the selling and promotion of vaping products.
Along with the Canadian Cancer Society, we also called for an increase to the purchase age for vaping products to 21, as numerous U.S. states have done. In Ontario right now, the age limit is 18.

Sabrina Merali, program manager for mental health and addiction, represented RNAO at the meeting with Health Minister Christine Elliott to discuss the decision to ban vaping.
RNAO applauds the move in the right direction and is looking forward to continue working with the government to ensure citizens are protected from this harmful substance.